TWiM delivers all the Marvel info on comics, video games, toys, TV, film, and beyond! Hosted by Ryan "Agent M" Penagos and Jamie Frevele. Tweet your questions with #ThisWeekinMarvel or email twimpodcast@marvel.com.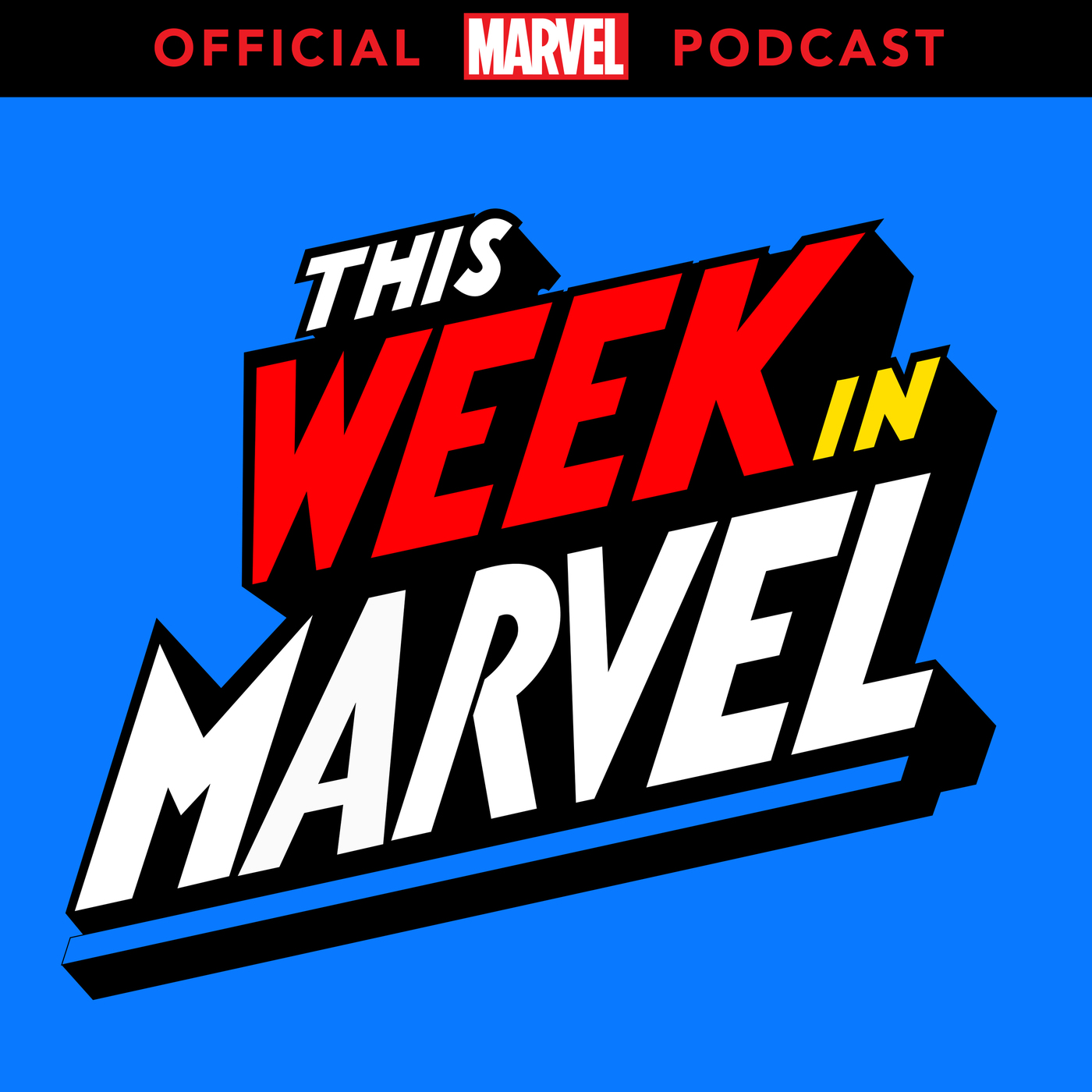 Ryan "Agent M" Penagos is joined by Editor-in-Chief C.B. Cebulski to look at Marvel's gnarly nineties through the lens of some swingin' Spider-Man comics! Peter encounters Venom, Carnage, The Green Goblin and more!

Ryan welcomes Jason Aaron, Russell Dauterman, and Matt Wilson from the WAR OF THE REALMS creative team for the final roundtable of the universe-shattering event. Afterwards, Ryan hits the E3 2019 show floor to talk to the Marvel Games team and the developers of the recently announced Marvel's Avengers game!

Ryan and audio producer Percia Verlin chat with SAVAGE AVENGERS writer Gerry Duggan about the history of Kulan Gath in the Marvel universe before talking to comedian Vir Das about Bollywood and Indian super heroes.

Ryan and Lorraine get psyched to host the upcoming "X-Men: Dark Phoenix" Red Carpet before chatting with Paul Scheer about fandom, writing COSMIC GHOST RIDER DESTROYS MARVEL HISTORY, and podcasting!

Ryan and Lorraine introduce a new co-host, James Monroe Iglehart onto the show before exploring Jean Grey's tumultuous time as the Phoenix throughout history. Then, actor Chance Perdomo from "Chilling Adventures of Sabrina" visits to chat about his ...

The Marvel family said goodbye to colorist Justin Ponsor this week, so Ryan Penagos is joined by Executive Editor Nick Lowe to talk about Justin's life and incredible work as one of Marvel Comics' most prolific, celebrated, and beloved artists.

To celebrate the success of Marvel Studios' "Avengers: Endgame", here's a collection of short interviews recorded live from the red carpet with guests Kevin Feige, Rob Liefeld, Shaun Toub, Trinh Tran, Alan Silvestri, and more!

Ryan and Lorraine give a very special Marvel's Strike Force announcement before having on famed Marvel writer and editor Ann Nocenti to talk about her experiences working at Marvel in the 1980s.

Ryan "Agent M" Penagos is joined by Editor-in-Chief C.B. Cebulski to talk about some of their favorite X-Men comics of the 1980s, written by Chris Claremont and drawn by four incredible artists: #143, 168, 181, and 186.

Ryan and Lorraine create an interview-palooza with the creative team behind WAR OF THE REALMS and the showrunner and stars of Marvel's "Cloak & Dagger" season 2!

Ryan and Lorraine invite resident nerf herder Tucker Markus to help celebrate Star Wars Day before indulging in a "Veep" extravaganza with David Mandel (Executive Producer / Showrunner), and actor Sam Richardson (Richard Splett).

Ryan, Lorraine, and Tamara Krinsky celebrate the opening of "Marvel Studios' Avengers: Endgame" with a bevy of guests, including Don Cheadle, Kevin Feige, Directors Joe and Anthony Russo, and screenwriters Christopher Markus and Stephen McFeely!

Ryan and Lorraine talk about the sights, sounds, and stars of red carpets past to prepare for the upcoming Marvel Studios' "Avengers: Endgame" premiere livestream! Afterwards, they talk to actor and writer Yassir Lester about his comic book heroes.

Ryan "Agent M" Penagos is joined by Editor-in-Chief C.B. Cebulski to talk about Marvel's creative superstars of the 1970s, focusing specifically on AVENGERS #160-162 by George Perez and Jim Shooter! The murderous Grim Reaper returns to put the ...

Ryan talks to the entire WAR OF THE REALMS creative team about what goes into crafting a massive Marvel Universe-shifting event. Afterwards, we journey back in time to Ryan's C2E2 panel with Marvel Editor-in-Chief C.B. Cebulski!

Ryan and Jamie talk to two fresh comic book creators: the Tony Award-winning James Monroe Iglehart, who's Spider-Man story appeared in MARVEL COMICS PRESENTS #3, followed by prolific podcaster Travis McElroy, who co-wrote THE WAR OF THE REALMS: JOURNEY...

Looking for episode-by-episode discussions of "Marvel's Cloak & Dagger" Season 2? Subscribe to The Marvel After Show to be notified when the first episodes, featuring guests like Olivia Holt and Aubrey Joseph, are released this Thursday, April ...

At C2E2 2019, Ryan hosted a panel with guests Nick Spencer and Humberto Ramos, writer and artist of AMAZING SPIDER-MAN: HUNTED, in which they teamed up with audience members for an epic debate pitting animal-themed Marvel characters against each other.

Ryan "Agent M" Penagos is joined by Editor-in-Chief C.B. Cebulski to talk about four of the most iconic issues of the swingin' sixties — FANTASTIC FOUR #48-51! We meet the Silver Surfer and Galactus as the FF face the end of the world in the ...

While reading the comic book, listen to the official WAR OF THE REALMS soundtrack theme, composed by Jimmy Urine (Mindless Self Indulgence)! Recorded live at the gateway of the Black Bifrost, it's a song so epic, even Surtur sheds a tear when he ...

Ryan and Jamie chat with Ben Percy, the writer of "Marvel's Wolverine: The Long Night" and the upcoming "Wolverine: The Lost Trail", about making Logan the center of the story for the second season. Then they are joined by actor Rodney Henry who plays ...

To celebrate the home release of "Spider-Man: Into the Spider-Verse", Ryan talks with Spider-Man Noir creator and co-writer Fabrice Sapolsky about creating and pitching the character, writing the series, and having it adapted to video games and now the...

Ryan and Jamie discuss Cyclops' list of the X-Men's biggest "problems" with writer Matthew Rosenberg, then talk to AMAZING SPIDER-MAN writer Nick Spencer about his new "Hunted" story arc, available now!

Ryan and Jamie are joined by writer Jason Aaron, artist Russell Dauterman and colorist Matt Wilson to talk about collaborating on the upcoming comic event, THE WAR OF THE REALMS. Then, comedian Matt Braunger talks the intersection of his comedy and ...

Ryan and Jamie discuss the weird history of Marvel's funny cartoon animal comic book past, and its future with John Cerilli and Frank Tieri's upcoming ZIGGY PIG - SILLY SEAL COMIC #1!